At a glance
Machine data is analysed in real-time and used for innovative customer services
Individual apps provide massive savings in time and effort for the various target groups
Product manufacturer transforms into holistic solution provider
The business situation of our client
There are countless opportunities in your data to improve your business and make your customers more satisfied – not only in the form of process optimisations and better decisions. Rather, you can create completely new customer experiences with innovative products and digital business models and thereby stand out from your competitors.
Just like our client WMF – the world's leading manufacturer of commercial coffee machines faced these challenges, among others:
Low growth opportunities due to market saturation.
Competing products of similar performance and quality
Costly service business with regard to required spare parts
Data management in heterogeneous system landscape
Service instructions mostly in German language
As a result, together with those responsible, we have expanded the company's products with data-driven applications that significantly facilitate the daily work of the core target groups – specifically: facility managers, food chain managers and service technicians. WMF is thus developing more and more from a pure product manufacturer to a provider of digital services.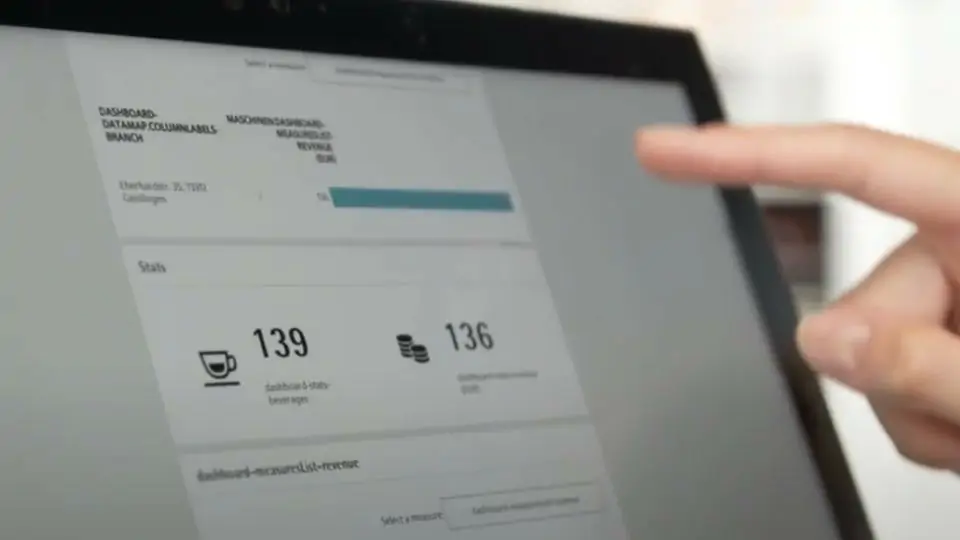 The solution for our client
In order to achieve the set goals, we have networked all active customer machines with the services of the Microsoft Azure Cloud via the Internet of Things. The central component here is a digital cloud platform. Here, the status data generated by the machines is collected, processed and made available for the various application scenarios. There is also a feedback channel through which the user can send commands to the machines.
In addition, we have connected the company network to the platform and with it other data sources, such as CRM, ERP, telemetry database and media pool. As a result, the platform also functions as a knowledge database that bundles comprehensive information and problem solutions for WMF employees and customers. In this context, existing text documents are automatically extracted and translated into different languages.
Finally, a real-time analysis of the machine data enables very different digital innovations. We provide these as user-friendly apps in a modern UX design. The applications can be seamlessly integrated into other business applications via a standardised interface, so that the user can work with them comfortably in his familiar environment. Meanwhile, WMF's specialist departments and analysts receive interactive reports for more in-depth analyses.
How data turns into new values
As it turns out, it is not that difficult to make analogue products "intelligent" with cloud services and the Internet of Things. The resulting applications make the work of the various customer groups easier, above all through massive savings in time and effort:
Service technician
App provides detailed instructions for fault analysis and rectification
Immediate ordering of spare parts on site saves further effort
Food Chain Manager
Performance of branches and machines can be evaluated and controlled in real time
Necessary measures – for example with regard to capacity utilisation and quality – can be initiated directly
Example: New recipes or promotions can be sent directly to the displays of the machines in the shops
Facility Manager
App informs which machines in the building require action – for example, to refill coffee beans.
In the event of problems and defects, information is also provided for diagnosis and solution.

turn your data into value.